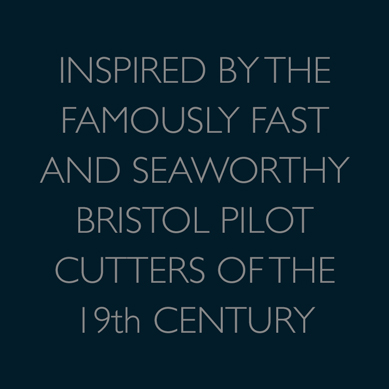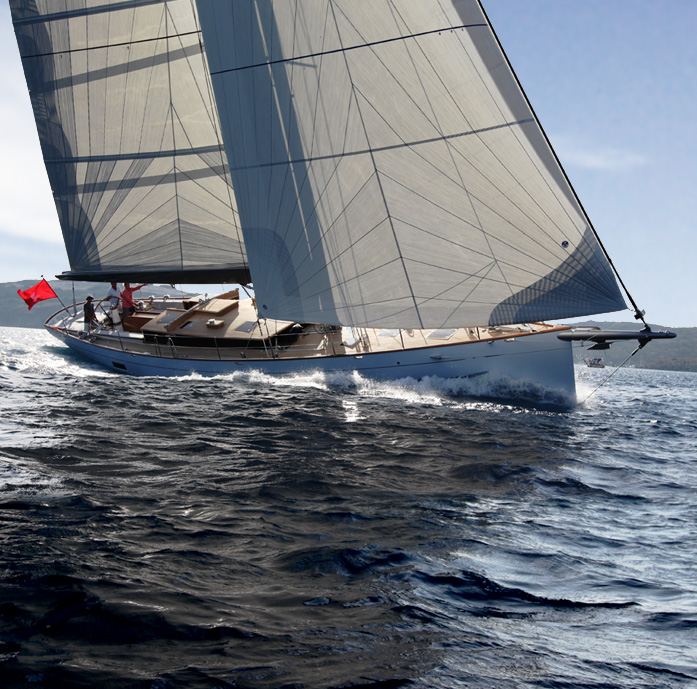 Our yachts exhibit striking plumb bows, bowsprits and elegant overhanging sterns, all hallmark of the captivating designs of yesteryear. Hoek Design have married these attributes to a very modern and efficient underbody to give a performance that is in keeping with the reputation of their forbearers. We believe that these yachts are timeless in design and whether it be in one year or thirty years will still have 'that look' and are very much tomorrow's Classic's today.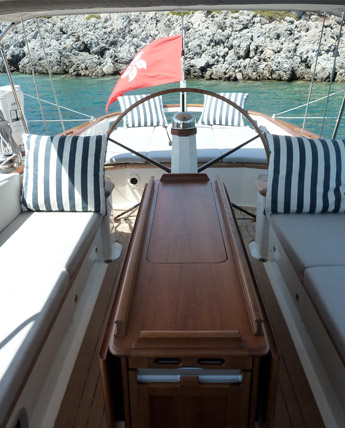 The blend of old and new continues in the build quality. A modern multi layer glass epoxy or carbon epoxy lamination system with a Gurit Coracell M foam core with a carbon reinforced grid system provides the basis for an extremely stiff and light structure. A fully composite interior is then complemented by beautifully handcrafted paneling and stunning woodwork.
Yachting by nature is a passion and accordingly the building of a yacht should be an act of devotion for all involved. PCY, the builder and the designer are all extremely experienced and are putting their full commitment in the crafting of these Yachts. This passion and commitment translate into a timeless product of unparalleled quality and style that will provide a unique experience for those lucky to sail them.

Due to the the artisan approach to the construction our process offers great flexibility when it comes to styling your boat. For instance, the exterior styling of the first PC66s was designed with a more modern retro look with its low profile wraparound glass which was inspired from Hoek's involvement in the Wally Nano project. However, a more classic look can be achieved by having the coach roof sides in wood veneer with traditional windows.
The interior standard is "New England" styling which provides a very light and airy feel but other alternatives are available in terms of a more traditional wood paneled interior in a variety of different woods and finishes.
SAFETY IS OUR CONCERN
Our Yachts are structurally engineered to ISO standards and certified CE "Cat A". Each of our yachts has water tight bulkheads fore and aft with bilge alarms at the helm and also have an important safety feature found on high end race boats namely a sacrificial bow which is designed on heavy bow impact to break off leaving the hull structure intact. The Keel structure is heavily reinforced and bolted directly onto the carbon grid structure of the yachts.
BEAUTIFULLY HANDCRAFTED PANELED INTERIORS
The interiors of our Yachts are all handcrafted with paneling and wood detailing built on a composite and lightweight structure. Interior customisation options can be discussed according to the your preferences.
GRACE WITH SPACE
It is possible to have a stylish classic yacht that is still practical. A recent study concluded that over 70 percent of the waking hours on a yacht are spent in and around the cockpit area and this is where these designs excel – luxurious and spacious, the cockpits have been ergonomically designed into three areas:
An area where eight can dine in comfort and be undisturbed during sailing including a main sheet which is away from the cockpit and allows a full bimini under all conditions if required.
A sailing area where one can trim the main and genoa without leaving the helm.
A spacious aft sunbathing deck with substantial storage underneath accessible via large hatches.
The yachts have also been designed to maximize the tankage and make use of all available space for storage including large deck lockers both aft and forward for storage of fenders, sails, ropes and ladders etc.